These are 12 top accessories for your RV that we recommend purchasing before that first trip out. Please do your research as some of these are a necessity even for basic camping.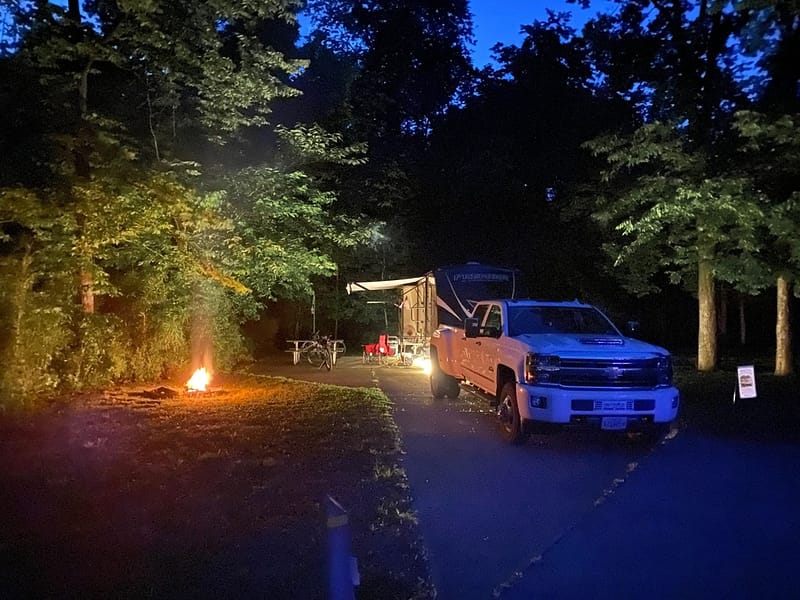 12 TOP Accessories for Your RV by Type
Top RV Sewer Accessories
Camco RhicoFLEX RV Sewer Hose
Unless you are camping in a unit with no tanks this is a must have for your RV. Your RV has holding tanks that keeps both grey water (sinks and shower) as well as black water (toilet). Its not a favorite but you will have to dump these from time to time so make sure you right tools for the job. This is an area where you don't want to go cheap because a leaky hose is not something you want to deal with.
The Camco RhicoFLEX 15 foot sewer hose is a must have to dump those tanks. It has a bayonet fitting on one end and a 90 degree elbow on the other that attaches to a threaded fitting to fit most sewer connections. The 90 degree elbow is also clear so you know your tank is clean while flushing it out. The hose and elbow will fit in a standard 4″ RV bumper with the threaded fitting removed so it's easy to store.
Sewer Hose Support
The Camco Sidewinder RV sewer hose support. The support pulls out to keep your sewer hose off the ground and provide a natural slope to assure the hose drains properly. These are useful in full hookup sites when you leave your hose connected to the RV.
Happy Campers Organic RV Holding Tank Treatment
Happy Campers Organic RV Holding Tank Treatment is odor free and helps eliminate odors in your RV holding tanks. It aides in liquifying solid wastes and tissue in your RV black tank. One scoop treats up to 40 gallons. We also recommend adding this to your grey tanks from time to time. It will help to break up food particles, grease, and soap buildup in your grey tanks.
Fresh Water
Camco 25 ft TastePure Drinking Water Hose.
You will need a hose either for a full hookup or if you are filling that freshwater tank on your way in to your campsite. This Camco 25 ft. drinking water hose is designed for potable water. You should never use a standard garden hose as there are chemicals released because of the materials used. The hose is 5/8″ diameter and kink resistant.
Camco RV Brass Inline Water Pressure Regulator
The plumbing in your RV can only take so much pressure before it will rupture. Many campgrounds have higher pressure so you want to make sure you don't damage your plumbing by installing a pressure regulator in line before the water enters the RV.
The regulator hooks up to your RV city water connection and has standard 3/4″ garden hose connections on each end. It reduces pressure to a safe 40-50 psi to assure you don't damage your RV plumbing.
Camco Water Tank Filler with Shutoff Valve
The water tank filler is designed to let you safely fill your freshwater tank on your RV. Sticking the end of your hose directly into the fill neck can be dangerous as it fills the space completely and can build up excessive pressure in the line possible pushing the hose of its connection inside the RV. The tank filler has a slightly smaller fill tube so pressure can escape around it during the fill. It is also convenient to have the shutoff valve right at the fill end so you don't overfill the tank and blow water all over yourself in the process.
RV Inline Water Filter by Amszke
Using an inline filter when filling up or connected to city water will help reduce odors, bad taste, and sediment from your RV fresh water system. The filter has standard 3/4″ garden hose connections on each end and comes with an additional small hose so you can hook it up in line. One filter is good for 3 months of use and the kit comes with two filters.
RV Electrical Accessories
Sometimes it is not as easy as just plugging in to the post at the campsite. Sometimes they may have limited connections or issues with the wiring itself so you want to be prepared for whatever comes your way and protect your investment.
Southwire Surge Guard Surge Protector 30 amp Connections
You never know what to expect out of the electrical system at some campgrounds. Bad wiring, power surges, and power dips can all cause damage to the electrical components in your RV causing costly repairs. At a minimum everyone should use a surge protector but for the best protection you want a full blown electrical management system. The Surge Guard 34931 protects your RV in several ways. It analyses the power at the pedestal before routing power to your RV to assure everything is right before making the connection. It also protects from high or low voltage, elevated ground wire current, and an overheating receptacle. It also displays the current line voltage as well as current usage.
Southwire Surge Guard Surge Protector 50 amp Connections
This unit provides the same protection as the above 34931 but is for RV's with 50 amp connections.
Leisure Cords 50 Amp Male to 30 Amp Female Adapter
Most campsites are wired for 30 amp connections so why carry this? At some point or time you may find a site with both 30 and 50 amp connections that either has a bad 30 amp receptacle or a bad breaker. Rather than changing sites you can utilize the available 50 amp connection.
Kohree 30 Amp Male to 50 Amp Female Adapter
If you have a 50 amp connection you will soon find out that not all campgrounds have updated to offer 50 amp service at their sites. You can still camp at a 30 amp site by utilizing one of these adapters. Please note that you will have to be mindful of your power consumption as 50 amps gives you a total of 12,000 watts total capacity but a 30 amp will only allow 3600 watts. Read more about how much your appliances consume.
RV Leveling/Setup
Lynx Leveling Blocks with Carrying Case
At some point or another you will come across a campsite that is not level from side to side. Rather than carrying heavy lumber to drive up on, you can use these stackable leveling blocks. You can also utilize the blocks under your stabilizer or tongue jacks. The blocks are lightweight and come 10 pieces in its own carrying case to make it easy to store.
Camco Wheel Chocks
You should always chock your wheels prior to unhooking your trailer from the tow vehicle. These lightweight chocks will do the job and come in packs of 2.
Mahler Gates X Chock Wheel Stabalizers with Intergrated Wrench
Once you get inside your RV you may notice some movement while people are moving about in the coach. You can install a pair of the x-chock stabilizers between your wheels to eliminate the forward and backward movement in the coach. These newer style chocks have the wrench integrated into the chock so you don't have to keep track of a separate tool and come with combination padlocks to assure no one runs off with your investment. Please let us know if anyone is using these and what they think of them. We have the BAL x-chocks so we haven't tried this brand yet.
Summary
These are just some suggestions for items you will need to start your camping journey. There are several brands and variations of all the items above that you can try. There is also a ton of different items we will discuss later that aren't necessarily needed to start camping but will make the journey more enjoyable.
Another great resource for RV accessories is etrailer.com. They have been very helpful over the last 6 years providing product information as well as great customer service. We are not paid by them in any way but I have been very impressed with the level of service provided by them and always suggest them to people we talk to.
Please visit our installation/reviews sections to learn more.