Goodbye Travel Trailer Hello 2023 Rockwood 2662RK!
Before we get into the 2023 Rockwood 2622RK, let me start by saying that we have loved our Keystone Premier 30 RIPR travel trailer and consider ourselves lucky to have gone for 7 seasons with no major issues or failures. We have done nothing more than what we would consider routine maintenance and are happy, especially when you read some of the horrible experiences some people have had with their units.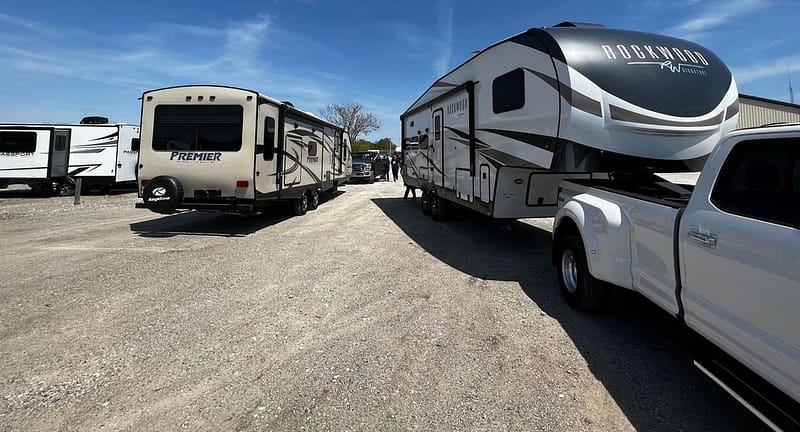 Why did we pick the 2023 Rockwood 2622RK?
At first I was in love with a new product that hit the market in 2021 because of some of the extras they built into their units which was the Paradigm line from Alliance RV. I have been looking them for 2 years but when we did finally decide we would go to a fifth wheel, I felt that spending 100k on a fifth wheel was not going to make our camping experience any better. So now the search became more of what we really wanted versus getting a large trailer that was more than we needed. This is what led us to the Rockwood 2622RK.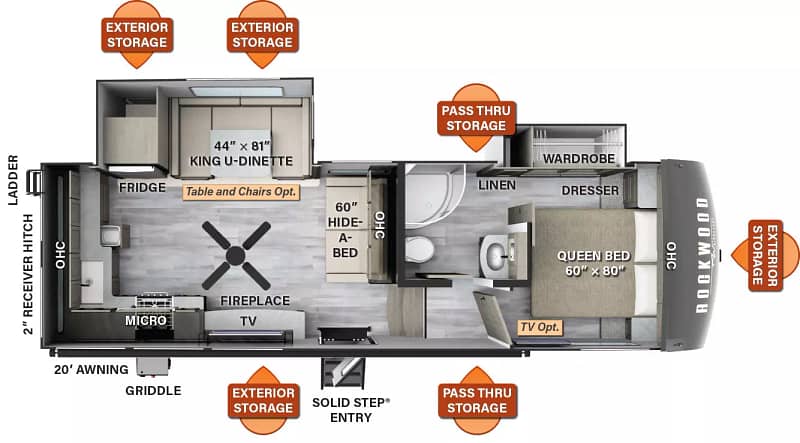 Things we wanted in a new unit:
Travel access – This is one of the things that helped decide on the Premier TT. We were able to access the pantry, refrigerator, bedroom, and bathroom with the slides closed. The Rockwood has access to all of these also and was a deal breaker as far as what we wanted.
Frameless radius windows (we had on our TT also and love the look and function)
50 amp power – I did not think we needed this when we purchased the TT and made it work with 30 amp but 50 amp is nice so you don't have to jumble around items to make sure you don't blow a breaker
Fireplace – not so much for the look itself but for the auxiliary heat when it's chilly out without carrying an electric space heater. We also have the heat upgrade in our bedroom AC which runs through the overhead ducts and runs from the main thermostat.
Larger tanks

TT fresh was 43 gallons vs Rockwood's 54 gallons – 25% increase
TT black and 2 grey tanks were 30 gallons each vs Rockwood's 40 gallons each – 33% increase

12 volt refrigerator – I was skeptical at first when these came out but they seem to be very energy efficient and have better cooling capacity vs the gas/electric versions from before. It also has 11 cu ft of storage vs 8 cu ft in our TT giving us 37% more room and no vent cutouts in the side of the camper for ventilation. The 12v fridge also has less of a footprint so the Rockwood gives you access by giving you outside storage behind the fridge.
Solar – the 2023 Rockwood comes standard with a 200 watt solar panel and 1000 watt inverter. I used to have to plug in the TT every few weeks if we weren't traveling to make sure not to run the batteries down.
2nd Air Conditioner – we had a single 15k unit on our TT and never got hot but there had been a couple places in full sun that the unit ran non stop and pushed the 80 degree mark. Also, the Rockwood 2nd A/C unit has a heat strip for auxiliary heat instead of burning propane on cooler nights.
2″ Receiver hitch – with a 5er we are giving up our truck bed so we'll need a new place to carry the bicycles and won't install a bike carrier directly to the bumper as we have seen folks have the welds on the bumper fail since they were never designed to carry any weight.
Automatic Leveling – we got the Lippert Ground control option on the Rockwood with auto leveling. TT had manual crank down stabilizers.
Countertop/cabinet space – The TT had more cabinets and after 7 years we still don't have them all filled. The Rockwood has about 16′ of counterspace wrapping from the entry door to the rear and across the rear of the coach. The Rockwood also has 8 drawers and tons of cabinet space although not a dedicated pantry cabinet.
What we like about our 2023 Rockwood 2622RK so far: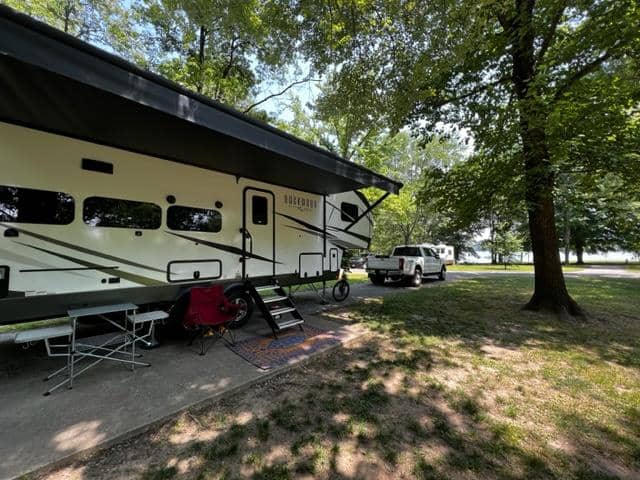 Towing: As with most folks, pulling a fifth wheel is much more enjoyable than pulling a travel trailer. I won't go far as to say that we don't know it's back there because we do feel a little chucking at lower speeds but you can definitely tell a difference in ride quality on the F350 dually with the weight over the axle. I can also tell that the fifth wheel doesn't seem to push as much going into corners. There were some times with the travel trailer that I would grab onto the steering wheel with my second hand because the TT seemed to push the truck more.
Interior Color: Our Premier had a beautiful interior but it was darker tones and did not have a tone of windows on the camp side so it did feel kind of like a dark cave at times. We opted for the Newport Ash Cabinetry on the Rockwood 2622RK. The lighter interior paired with a large amount of natural light just seems to make the space seem more open.
Storage space: While the Rockwood 2622RK has no formal pantry area, the number of cabinets more than makes up for this. We also love having a pull out trash can so it is not taking up any floor space.
Countertop space: With 16′ of countertop space in this unit, there is plenty of space for meal prep or mixing drinks on those hot summer days. I've looked at some other rear kitchen models but none seem to have the cabinet and countertop space of the Rockwood 2622RK.
Outdoor storage: There are three outer storage compartments on this unit besides the typical belly and hitch storage areas.
Shower Miser: The water heater for this unit is in the very back so it takes some time to get water up to the shower. There is a knob in the shower you flip which flows hot water from the heater to the shower and recycles back into the fresh tank until hot water flows around. The pipe will change color letting you know the hot water is there, then you just flip to operate the shower as normal. Not only does this save fresh water when you are running without full hookups, but it also cuts down on the amount of water going into your grey tanks.
Awning Protector/Support: The Rockwood 2662RK comes standard with a protector that rolls around the fabric when the awning is closed protecting it from UV rays. Also, the 20′ awning will be prone to sagging over time and has a center support to eliminate sag while the awning is closed.
Things we don't like so far:
Sofa: This unit came with the U-shaped dinette and the pullout sofa. You have the option of theater seats in place of the dinette but we like to eat inside when the bugs are bad and thought the sofa would be good enough. The sofa is functional but isn't that comfortable.
Ceramic Toilet: I will say that the toilet is an upgrade over our plastic Dometic unit we had in the TT which sounded horrible when you sat on it. The problem is the sprayer that is installed in this toilet. It sprays downwards in a fan pattern and does not seem to get the water around the bowl much. It would have caught the rim molded into the ceramic if they had just moved the sprayer up about another inch and would have cleaned much better.
TV Height: It is great that by moving the TV up on the wall they were able to gain an extra window into the unit but it is a little high when trying to watch.
Upgrades we've done:
So far here are some things we have upgraded on the Rockwood 2622RK:
JT's Strong Arm by Lippert: We figured we would give it a few trips to see if there was much movement in the leveling jacks and decided to address it. Installation is pretty straight forward and what a difference it makes.
Snap Pads: The snap pads add to the width of the stabilizer feet as well as giving it some anti skid ability on concrete or asphalt if there is a slight grade.
Lithium Battery: Our unit came with an 85ah deep cycle battery in which you should only run it down by 50% which is only 42.5ah of storage space. We upgraded to a 100ah battery to give us more capacity to run the refrigerator while not hooked up to shore power. I opted for a Eco-worthy as it was on sale and had gotten good reviews.
12v Refrigerated Cooler: We were lucky enough to have an outdoor refrigerator on our TT. After a few trips this was something we definitely missed. Originally we thought of adding a small refrigerator to the belly storage but opted for the refrigerated cooler. The cooler can be plugged into the truck during travel so we can have access to cold drinks on the road then moved in front of the camper and plugged into AC while camping. This also means the unit isn't just dedicated to the camper so we can use for other events or take with us when that grocery store isn't near by when on the road.
Apple Lightning to HDMI Adapter: We both have iPhones so we decided to purchase this adapter. If we have service we can plug into a HDMI cable attached to our TV and stream from HULU, Netflix, or Amazon Prime while on the road.
Kislane Griddle Carrying Bag: The Rockwood 2662RK comes with a small Suburban griddle plate which is great but we didn't want it sliding around in the storage compartment potentially damaging anything. The supplied griddle fits perfectly in this bag making it easy to transport around.
Cupboard Bar Tension Rods: The cabinet space in the Rockwood 2622RK is great but there is no division between the cabinets. With the cabinets being in the rear of the coach, things will try to move. We installed these to help keep things in their place so we didn't have a mess every time we opened up our cabinets after travel.
Swagman Bike Carrier: I have used Swagman in the past and had a fork mount rack in the bed of our truck while we pulled the TT. This unit is RV approved meaning it is designed for the shock/bounce typical on the back of an RV. The Rockwood 2622RK does have the factory installed fold down rack which created a clearance issue so I also installed a 7″ receiver extension. This gave just enough clearance without the bikes coming off of the back of the coach too far. To keep it from bouncing, I mounted it to the hitch on the coach using the Curt anti-rattle hitch pin shim. Using it we have a solid connection and no worries about our bikes being properly locked down for travel.
Power Watchdog Bluetooth Surge Protector: We had an EMS from the TT but it was for a 30 amp connection. When researching, the Watchdog got great reviews and one thing I like was the surge module can be replace should it ever get hit instead of throwing the whole unit away and buying another. I also like the convenience of using Bluetooth to monitor our power demand while camping from my phone.