Where is the Million Dollar Highway located?
The Million Dollar Highway is designated as Highway 550 and stretches about 25 miles between Ouray and Silverton Colorado. The highway is all two lane and offers some spectacular mountain views. Most of the highway has no guard rails and the ground basically drops off from the shoulder of the road as you leave Ouray heading southbound.
Million Dollar Highway History
The original stretch of road was built as a toll road in 1883 to connect Ouray with Ironton. In the 1920's the original road was rebuilt at a considerable cost and is now part of the San Juan Skyway Scenic byway.
Time to get a Jeep and head off road!
We were camping in Grand Junction, Colorado and mad our trip south to visit Ouray. Once in Ouray we rented a Jeep so we could explore the vast Alpine Trails that are located all over this region. For our first trip we headed south down the Million Dollar Highway from Ouray heading to the Mineral Creek Staging Area.
The trail began easy so we left the jeep in 2 wheel drive then we made a hairpin turn to the ride and started up a steep rocky grade. I locked the Jeep into four wheel drive and the motor revved like it was in neutral so I tried going to four wheel low. The Jeep tried to lurch forward and we began spinning the rear wheels only. It was apparent the transfer case had some sort of issue so we had to carefully back down the grade until we could find a spot where we could turn around. What a disappointment!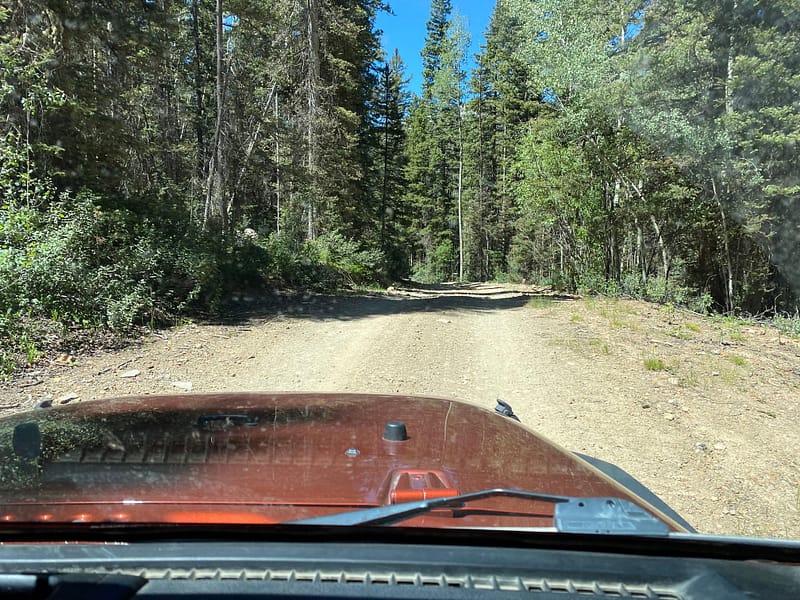 We headed back into Ouray where we rented the Jeep to report the issue. The rental company was apologetic and quickly refunded our money but to our dismay, there were no more Jeeps available for rent. Disappointed we loaded back in our trusty Dually and headed south towards Silverton.
The Drive
If you are remotely close you need to drive this highway. You make your way through a couple of tunnels, hairpin turns, and steep grades but the view is magnificent. There are stretches of highway where there are no guard rails and you are driving just inches from the edge of a huge drop off that runs into the valley below. A little unnerving yes, but the views are spectacular!
You will want to take in all of the scenery but if you are the driver you have to pay attention. The road is narrow but you will pass the occasional semi so it is not impossible to drive the RV down as you are passing through. We originally were going to New Mexico next and I wanted to pull the travel trailer through but Anna thought this wasn't the greatest idea.
Silverton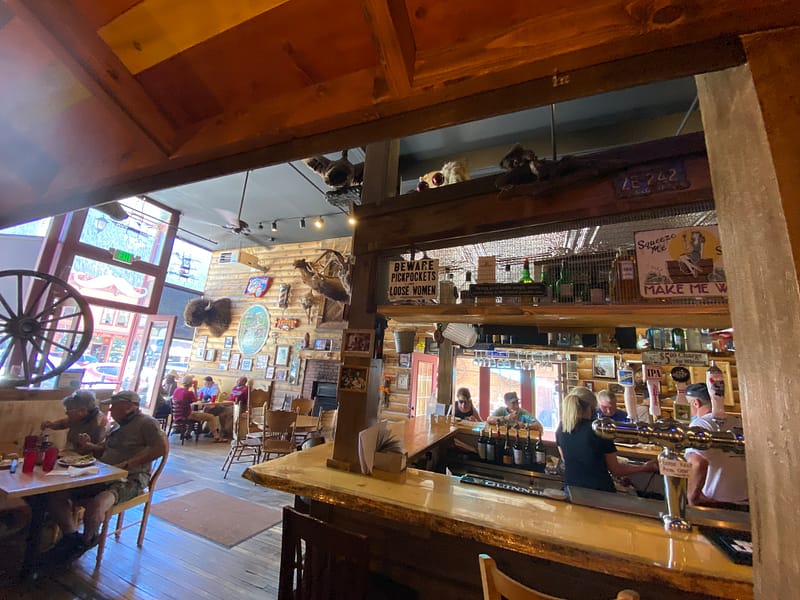 What a neat little mountain town. As you are heading into town it is so picturesque with the mountains towering above. Once in town we decided lunch should be the first order of business. Someone had recommended Handlebars Food & Saloon which is located right on the main street. Handlebars is decorated with all sorts of mounted wildlife and old pictures from the region. They have a diverse menu so it should be no problem satisfying everyone's appetite no matter what their tastes are.
After lunch we headed out to explore town. We stopped into Silverton Harley Davidson which is the highest Harley shop in the world. Being Colorado I wasn't sure what it was implying but it is based on its elevation of 9318′. After that we headed over one block and visited Old Town Square which is made up of several small shops.
Across the street we visited a place that where Ken Webb does artistic blacksmithing called Quiet Bear Art. The artist uses acids to color the metals to make the designs. One reminded me of the moon rising over the rock formations of Arches National Park that we had just been to a couple of days earlier so I had to have it. The gentleman said I had to take it over to their main store to pay for it and I was surprised of the trust that I wouldn't run off with it.
If you like the Million Dollar Highway you check out Skyline Drive in Cañon City.