After years of wanting to, we finally got to take a trip out west. The last leg of our trip took us to Rapid City, South Dakota. On this leg of the journey we visit Mount Rushmore, Custer State Park, Badlands National Park, and the famous Wall Drug Store.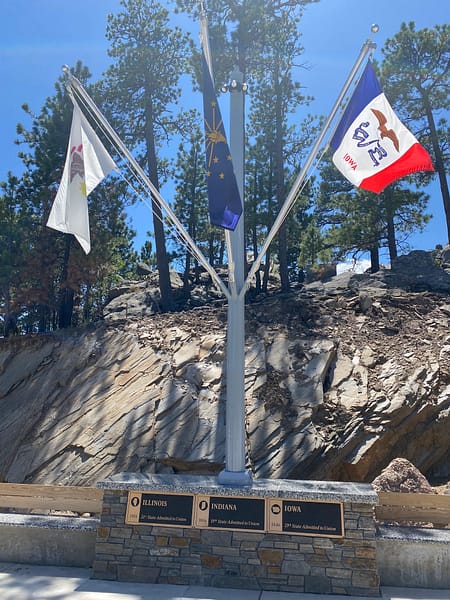 Mount Rushmore
The first day in South Dakota takes us to Mount Rushmore. I have had several say that it isn't much to see but I am very patriotic and this was high on my bucket list. We were a little nervous as part of the park was shut down for reconstruction just before we left on our trip. We got lucky and they had just opened up the entire site to host the 4th of July celebration. As everyone does, we got in a few selfies with a view of the carvings in the background. Visited our state flag on the avenue of flags. Then took a walk to the Sculptors Studio to check it out.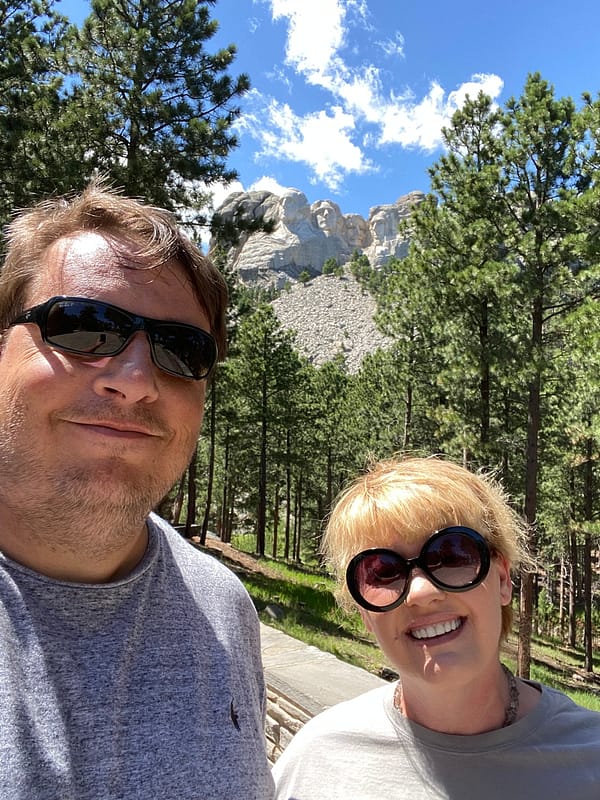 Custer State Park
On leaving Mount Rushmore we made our way towards Custer State Park via the Needles Highway. What a beautiful stretch of road! I will admit though, one reason I had to go this way was to curb my need for a challenge. The Needles Eye Tunnel along the drive was listed as 8′ wide and our Chevy Dually just happened to be 8′ so challenge accepted. I will say that the map they hand out is incorrect and there are a few inches to spare if you decide to try it also. Anna did warn me that I better not complain should I scratch up a fender but all ended well.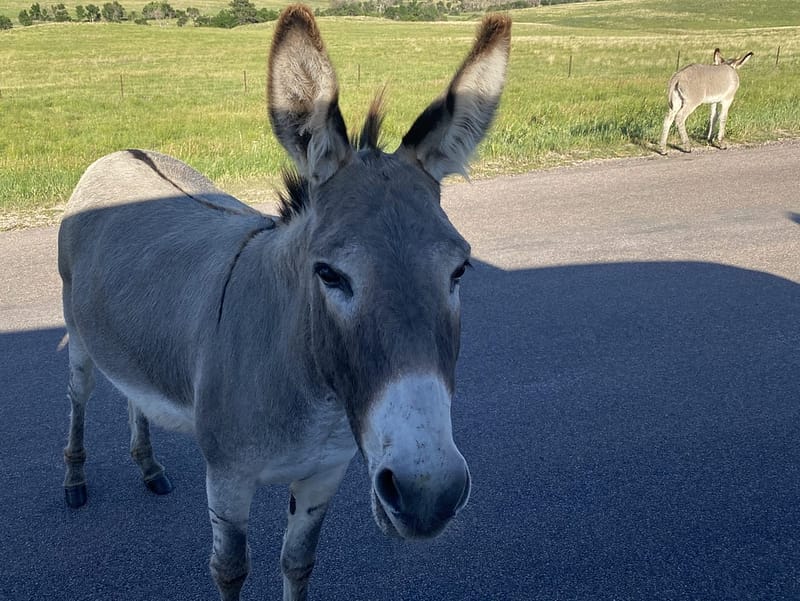 After winding our way down the Needles Highway we made our way to the wildlife loop. This section of road in the park is known for its wildlife. First lets stop and get a bag of carrots because one of the biggest attractions is the begging burros. There is a group of wild donkeys along the road that you can mingle with that seem pretty tame as park visitors fill them up with items that we aren't supposed to give them. It was fun to get out and feed them and watch the kids light up while interacting with them.
As we travel further we get into a buffalo jam. Hundreds of buffalo have gathered near the road and stop traffic as several cross the road. It is a great site to see this large herd cover the nearby landscape.
Minuteman Missile National Historic Site
On day two, we decide to make our way East to see the Badlands. On our way to visit the park we found another National Park Site, The Minuteman Missile National Historic Site. This site outlines the history of the cold war and in depth looks at the minuteman sites that used to dot the landscape in this part of the country. It is worth a stop and right at the East Entrance to the Badlands.
Ranch Store – World's Largest Prairie Dog
We head south towards the Badlands and had to stop to visit a tourist trap along the way. We stop at the Ranch Store whose claim to fame is having the world's largest prairie dog outside their store. The prairie dog stands 12 feet tall and is constructed out of concrete. While there you might as well go in and buy a bag of peanuts so you can visit the prairie dog colony that lives at the site. We found most were not interested in eating as they probably get pounds of peanuts thrown their way throughout the day. It is still fun to watch them as they interact and dig around in the dirt.
Badlands National Park
Now on to Badlands National Park. The park is very unique and was a nice change of pace after spending a week in the Rockies. It was hot and windy but being from the St. Louis area, I see the benefit of the dry heat versus our humid summers. There are many trails going out to scenic overlooks throughout the park and you must stop in at the Ben Reifel Visitors Center to learn about the park. We did not spend much time as COVID was in full force and we tried to avoid being in areas with large amounts of people.
Wall Drug Store
We decide to go from East to West in the Badlands so we would come out of the park near the famous Wall Drug in Wall, South Dakota. You definitely cannot miss this place as there are signs for it all along the interstate going out for miles and miles. Wall Drug is massive with several shops located within their facility as well as a restaurant. We did a quick once around the stores but did not linger long again as COVID was hot and there are a lot of people at this place.
As we head back we stop for dinner just East of Rapid City at Dakota Steakhouse. There is a statue of a buffalo out front made with everything you can imagine. I saw pieces of old wood stoves and even a section of hood from what I believe was a 40's Ford Truck. Very creative! Dinner was excellent and I still crave the Buffalo Skewers with a peanut sauce that we had as an appetizer.
Heading Home
That was the end of our western adventure and the next day we left early heading east to go home. We awoke to 60 mph wind gusts which isn't how I wanted to start our 1000 mile leg home. After waiting a couple hours we did take off and had planned to spend the night in Nebraska then finish the trip the next day. Forecasts were calling for extremely severe storms after Midnight so we decided to drive straight through to get home. It was nice to get home a day early but I felt like I had a hangover the next day after driving 19 hours pulling that travel trailer.