Montauk State Park Intro
Montauk State Park near Salem Missouri is located near the headwaters of the current river. It is best known for it's trout fishing and thousands go there every year to fish. The park covers 2920 acres and has both lodging and campsites for visitors.
We are not that into fishing but were invited by some friends who, are so we decided to check it out. It is still a beautiful park to visit even if you aren't an angler and it is still interesting to visit the hatcheries and learn how they manage and stock the trout in the park.
Montauk State Park Lodging
There are six cabins available for rent, 24 duplexes and four-plexes as well as 18 motel rooms located at the Dorman L. Steelman Lodge. Also at the lodge you will find a store, fishing tackle, and a full service restaurant.
Montauk State Park Camping
The parks camping areas are broke into four distinct loops. Loop one contains basic sites with no electricity. Loops two and three have 50 amp electric while loop four has 30 amp electric.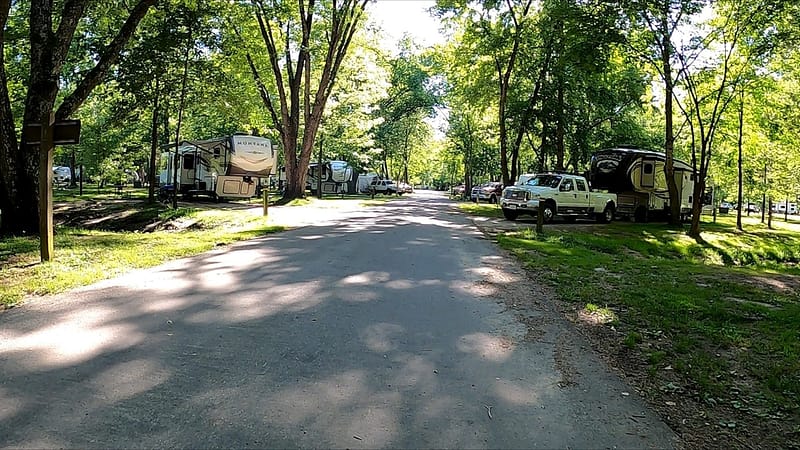 Shower facilities both have laundry facilities and there is one located between loops one and two and another located near loop four that is also used by loop three. Firewood is available for purchase next to the shower house near the entrance to loops one and two.
There are two dump stations in the campground. One is located next to the check station at the main entrance to the campground. The other is located in front of the shower house located across from loop four.
Montauk State Park Fishing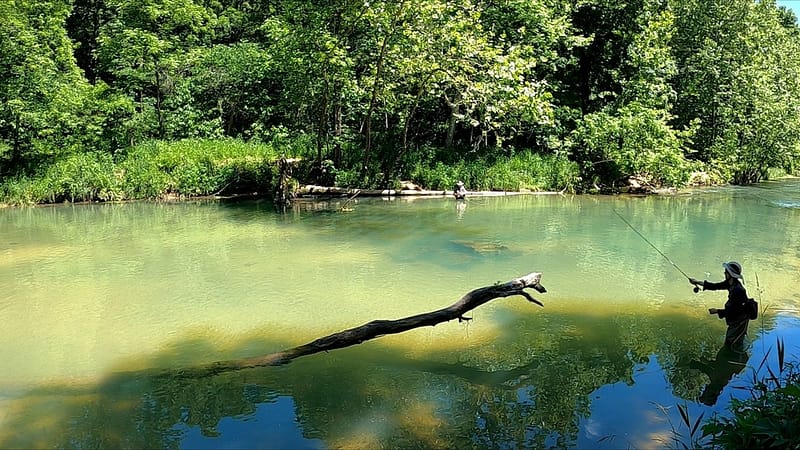 Trout fishing is what most visitors to the park come for. The Current River contains both rainbow and brown trout. Trout season opens March 1 and lasts until October 31. Fishing times vary by month so please check for current times. There is a horn that sounds in the park to let you know the beginning and end of fishing times.
Fishing regulations:
A daily trout tag must be displayed on each angler.
You must have a state fishing permit unless 15 years and younger or a Missouri resident over the age of 65.
The daily limit is four.
Only a single pole or rod can be used.
You cannot be in possession of any trout in the catch and release areas.
Check the Montauk State Park page for current regulations.
Montauk State Park Trails
There are three trails at Montauk State Park, two hiking and one paved bicycle trail.
The bicycle trail is only 0.1 miles long and goes between the park road near the entrance of the campground to the lodge.
The Montauk Lake Trail is 0.8 miles in length and allows both hiking and bicycling. The trail is also a road for authorized vehicles only and is used for stocking of select points of the river at night. You first pass some trout rearing pools as you make your way towards the wetland area. In this area you have a good chance of seeing some beaver working in the waters. You will also see sand bubbling up in the water near the banks where the springs come up through the soil.
The trail then parallels the Current River near the headwaters where you will see several anglers fishing. You then loop back around towards the hatchery office. The trail is a good place to look for beaver, armadillos, bald eagles, ducks, otters, muskrats, mink, and great blue heron.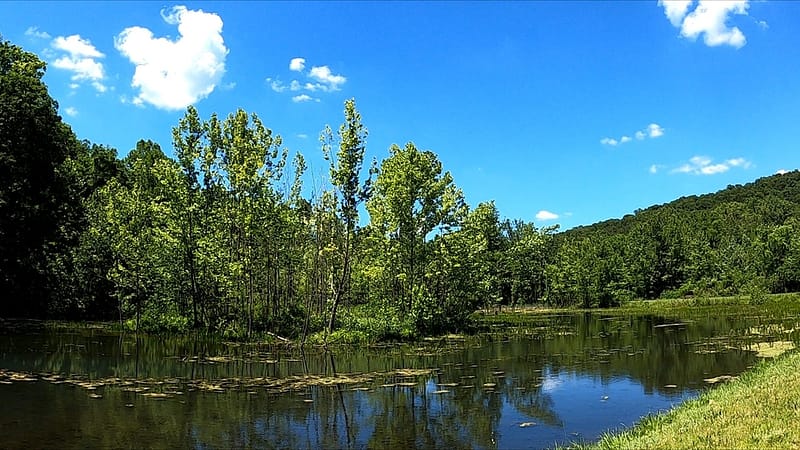 The Pine Ridge Trail follows a "C" shape with trailheads on each end and is 1.4 miles in length. The trail begins near the stone picnic shelter and travels across a stone and concrete footbridge where it travels uphill to a 25 acre Montauk Upland Forest Natural Area. Trail rating is rugged and should take about an hour and a half to hike.
Montauk State Park Mill
Montauk State Park houses a grist mill that was built in 1896 replacing one that was built earlier in 1870. The mill used water power from a turbine to grind wheat into flour. Montauk Mill operated well into the 1920s. It was rehabilitated by the Civilian Conservation Corps in 1935. It is open seasonally for tours.
Nearby Attractions:
Bo's Hollow – Bo's Hollow is a 1930s village, including: Bo's Conoco, a fully functional service station; the feed and hardware store; Granny's barbecue and jerky; gift shop; post office; telegraph office; barber shop; hoosegow; outhouse; and the Lost Cause Mine. You also get to take a ride in a Model A with the price of admission.
Welch Spring and Hospital Ruins – sitting along the Current River, the gorgeously abandoned Welch Spring Hospital Ruins once offered healing waters but now simply provides scenic ruin.