Sam A. Baker State Park is located in Wayne County Missouri near the small town of Patterson. The park covers just over 5,300 acres with 32.5 miles of trails. The park has a visitors center, park store, restaurant, amphitheater, horse trails, campgrounds, and cabins.
Camping
There are two main campgrounds with 200 sites available as well as an equestrian campground. Campground 1 is located on the St. Francis River and Campground 2 is on Big Creek. Both campgrounds offer tent and RV sites.
The RV sites are electric with 30 amp hookups and some have been upgraded to 50 amp. There is a dump station at each campground. The park has WIFI but is not always a reliable connection depending on the number of people in the park. Cell phone service is sporadic although I have been able to use Sprint at our campsite depending on conditions. Campground reservations can be made up to one year in advance at https://mostateparks.com/. The campground is busy and is usually at capacity on weekends.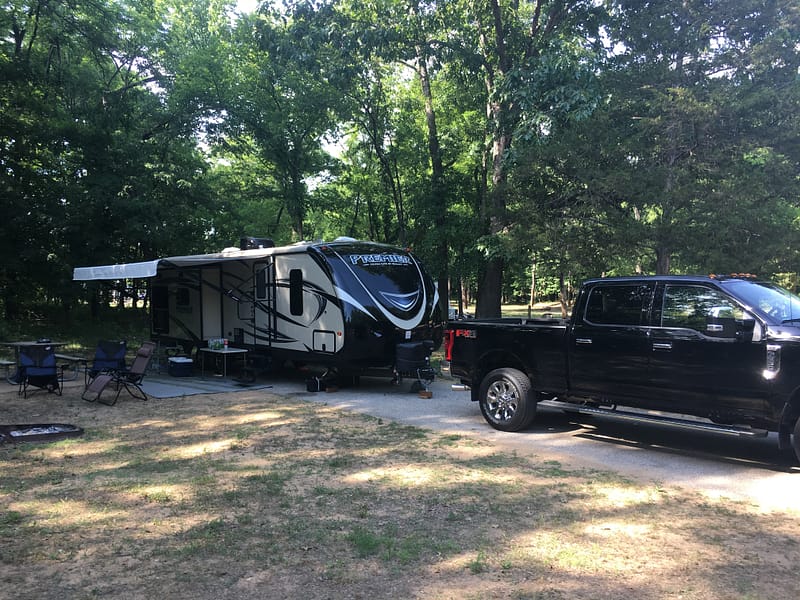 Trails
There are 32.5 miles of trails located within Sam A. Baker State Park.
The Fire Tower Trail is 1.9 miles. The entrance is near the park road by Campground 2 and travels up to an 85 foot tall fire tower which overlooks the St. Francis Mountains. We used to climb up the fire tower for magnificent views when we are younger but it is now closed to the public. The trail intersects with the Mudlick trail in 4 places. Estimated hiking time is 1 hours, 24 minutes.
The Mudlick Hiking Trail is 5.8 miles. The trail climbs from 415 feet up to 1313 feet above sea level. The trail is split into two sections, the equestrian and hike only. There are 3 stone hiking shelters located on the trail that were built by the CCC in the 1930's. The shelters may be used by backpackers on a first come first serve basis during the winter hiking season from Oct. 1 – May 15. Estimated hiking time is 5 hours, 46 minutes.
The Mudlick Equestrian Trail is 10.8 miles long. This loop climbs from 415 to 1313 feet above sea level. Accessing the trail from the day use area is an 11 mile loop but if accessed from the equestrian campground, it is a 16.75 mile loop.
The Shut-ins trail is 1.1 miles with the entrance starting behind the lodge. Estimated hiking time is 1 hours, 7 minutes.
The paved bicycle trail runs between campgrounds 1 and 2. The entire length is paved and is 1.5 miles long.
Cabins
There are 18 rustic cabins available for rent at Sam A. Baker State Park. Most have fireplaces, kitchens, full baths, heating, and air conditioning. The cabins are run by the concessions host and can be rented by clicking here.
Swimming
One of the main reasons people keep coming back to Sam A. Baker is the clear waters of Big Creek and the larger St. Francis River. You are allowed to use both between 8 a.m. and 10 p.m. Both waterways are just steps away from their campgrounds and parking is available behind the visitors center for a day use area on Big Creek where the water cuts through the remnants of an old low water bridge. Both are great for wading, tubing, and swimming. While it is allowed you are swimming at your own risk so keep an eye on the little ones.
Fishing
There are multiple places you can fish along Big Creek or the St. Francis River at Sam A. Baker State Park. Day use is allowed from 8 a.m. to 10 p.m. with bass, bluegill, sunfish, and catfish being the primary catch.
This place used to be a hidden gem but has become very popular. All sites are now reservable so plan ahead and reserve your spot.
Check out other great campgrounds in Missouri!