Dam West Campground Location
Dam West Campground is a Corps of Engineers Campground located on Carlyle Lake in Carlyle, Illinois. It is situated on the southern shores of Lake Carlyle just west of the dam and right next to the marina. Dam West is located 50 miles east of St. Louis, Missouri. Carlyle Lake is 26,000 acres and recognized as one of the nations top ten inland sailing lakes.
Dam West Campground
All of the sites at Dam West have 50 amp electric, paved pads, fire pit, and picnic tables. There are 113 sites total with 24 of them being full hookup sites. The 12 sites located West of Lake Road and 7 of those are pull through sites. There is an amphitheater located on the Eastern end of the campground. Click here to make reservations.
There are two shower houses in the campground. The shower house near the main entrance is air conditioned and has flush toilets, showers, and laundry facilities. The second shower house is located near the eastern edge of the campground near the lake and is the newer style with individual rooms that contain one toilet and one shower each. The dump station is located next to the entrance booth with the water fill being just past the booth as you come in.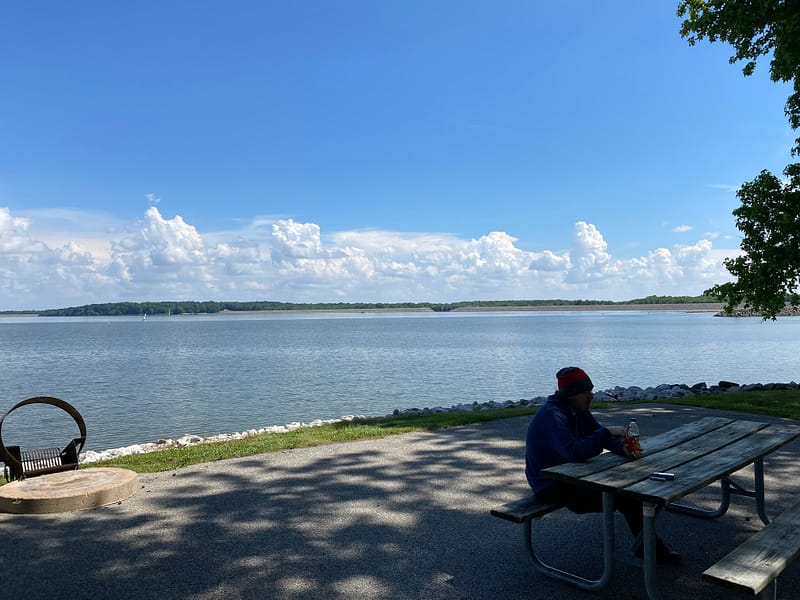 Dam West Campground Trails
We did not see any hiking trails located within the park but there is a bike trail that begins near the main shower house which is paved. The bike trail takes you east past the marina and into the Dam West day use area. The trail continues on past the day use area and across the dam and into the Dam East facilities.
Dam West Day Use Area
The day use area has two reservable picnic areas that can accommodate up to 75 people each. There are a boat ramp and fish cleaning station for those that want to hit the lake and cast out a line. There is also a beach area to cool off on those hot summer days. Check out the visitors center for information, nature exhibits, and a 215 gallon aquarium containing native fish. The day use area is open daily from 8 a.m. until 10 p.m.
Carlyle, Illinois
Dam West is located just outside the city limits of Carlyle. The city is located in Clinton County and has a population of 3,281. There is a grocery store and a Wal Mart nearby for any items you may need. Nearby are also a few fast food restaurants as well as some sit down dining. There is also a new gas station just west of the campground that has both gas and diesel with truck lanes for those larger rigs.
Nearby Attractions:
Click here to check out more Illinois Campgrounds!